On Site IT Support Tech 
Jason Colvard is an on site IT support technician. Jason has a strong background in Audio/Visual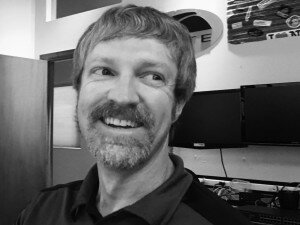 work and has transitioned to the world of IT in the past couple of years. He is excited to build on his already strong skills of desktop support with more diverse network administration experience.
Jason spent the first part of his career making metal for everything from your grandma's hip to jet engines to the Hubble Space Telescope before transitioning to his passion of working with technology. He is working on his second bachelor's degree in IT after earning his first degree in Material Science and Engineering from North Carolina State University.

In his spare time, Jason practices Aikido, snowboards, hikes and takes pretty photos with his fancy camera. He's been known to tinker with circuit boards or be found at the Avery tap room ruminating over the meaning of life and technology.